We believe that your business is our business and that if you succeed, we succeed. That philosophy is at the center of everything we do. We Please to present this document for introduce our self about our capability strength that make a company unique. Shivani Printers our Press and Head office at 1053/1049, 1st Floor, Bhandup Ind!. Estate, Pannalal Compound, L.B.S. Road, Bhandup (West), Mumbai - 400 078. with all latest all machinery and process unit Shivani Printers Mrs. Pradnya Prakash Darekar is an owner with Experience more than 25 yrs. and we are in to 10 th year of in this business.

We are able to offer you a wide range of printing Services at one door step from designing to final finish product with support of qualified Employee and latest technology. We will meet all your stationery and printing requirement. Warm Regards Mission Statement Our goal is to meet and exceed your expectations. We promise to listen to you and help you achieve your business goals. We will always be there with honest, expert and quick, friendly customer service.

Our Staff Professional printing is a multi-step process with each part playing an important role to ensure the final product is of the highest quality. While each department is focused on its part of the process, our company wide focus ensures unparalleled results.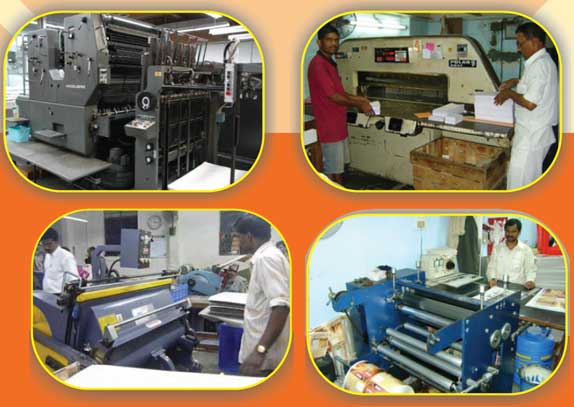 We look for many qualities in the individuals we hire, among them a strong work ethic, a high level of organisational ability and effective interpersonal skills. In addition we look for the desire to provide a high level of customer service. We train our staff to work with ever evolving technology but also insist on a never-ending passion for achieving customer satisfaction.

Scope of the Work NO, When it comes to business communications services, we can do it all. With a complete range of products and services at your disposal, we can help you get your message and branding out to customers, employees and vendors alike.

Below is a sampling of the products and services we provide. If there is something not on the list please feel free to enquire about it as we feel confident we can assist you with all your printing requirements.

Scope of INDUSTRY
* PHARMACEUTICAL All Packaging Material Cartons, Corrugation Box Leaflet Stickers Visualates any thing on paper
* FINANCIAL COMPANY Annual Reports Continuos Stationery & All Stationery
* Educational School, Colleges, Coaching Classes All Stationery

We Provides all Solutions for your printing NEED